Updates News
Token Functionalities, Explained: Everything You Can Do with Our HITT Tokens
Writen by Teodora Demian on 18.04.2022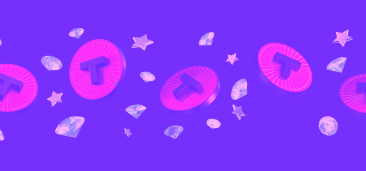 Our tokens, called HITT Tokens, are more than just crypto coins. They are a key feature of our ecosystem, holding multiple functionalities. They can be won, bought, or traded. They unlock app features. They will reward a user's activity. And much more. Let's dive into every possible usage of our HITT Tokens (so far).


Gain Rewards


One of TOKHIT's main goals is to help content creators earn a living through their in-app activity. We'll use the HITT Tokens to give them monetary rewards for their content. Creators will automatically earn tokens every time they post something on our app. More than that, they will win tokens based on the time they spend in the app and how much they engage with the app. The more active a content creator is, the bigger the reward.


Mint NFTs


Our revolutionary social platform lets any user mint Native NFTs fast and easy in a matter of seconds. The cost of turning a piece of content into an NFT will be close to 0$, but users will need HITT Tokens to cover that rate.


Buy, Sell, and Trade NFTs


The
HITT Tokens
will be used to make NFT transactions—similarly to the way other cryptocurrencies are used in NFT sales. You will need tokens to support a creator's activity by buying their NFTs, to sell or resell a previously bought NFT, or to trade one NFT for another.
Buy AirHugs items


While the AirHugs can be won, you will also have the option to personalize them by buying custom items. And that's when TOKHIT's tokens come into play. On top of this, you will need them if you want a chance to win SuperRare AirHugs. This is a limited-edition collection of Rare and Super Rare NFTs with unique properties and great market value.


Join Membership Programs


Our social platform will have multiple membership programs available, programs designed to help our users expand their network, unlock premium content from their favorite creators, and more. Access to these programs will be paid through HITT Tokens.


Join Subscription Plans


Apart from those membership programs, we will also have several subscription plans available. They will allow users to unlock additional content storage space in a Blockchain-based library so that they can protect the safety of their content. The cost of these subscription plans will be covered through HITT Tokens.


Pay for Marketplace Services


Our HITT Tokens will have a key role in our marketplace. Not only will they be used to make transactions, but they will also provide access to exclusive collectibles. The users who wish to become Investors, Traders, or Collectors will need tokens to gain unique digital assets or exclusive NFTs.


Gain Staking Rewards


Just like other crypto projects, TOKHIT will have a staking program that will allow users to reap the benefits of staking their tokens. Our system will collect the HITT Tokens received through the allocated Reward Pool. Besides, locking tokens in the app for Store of Value will help our users generate passive income.


Get Governance Rights


Since we're building a decentralized social network, token holders will have an active voice in our decision-making process. Once our platform will be completely decentralized, people who own governance tokens will vote on features, propose updates, and so on.


Access In-App Games


In time, TOKHIT will have a series of pay-to-play-to-earn games, which require an entrance fee that will be covered with our tokens. These games will be highly interactive and the rewards will be appealing enough to make that fee worth paying.


Gain Money


Our users can decide to exchange their HITT Tokens for a currency of their choosing, and then use the money they earned as they please. We will have a vesting period in the beginning, with 10% of the tokens available immediately and the rest of 90% released over the course of 18 months, with quarterly payments.


This is TOKHIT's Token-based economy, an economy designed to raise the sustainability of our decentralized social network and help us disrupt the market. Our tokens are available for sale; all you have to do is
register to buy tokens
on our website!
Presenting
The Proof of Users
Access Innovative Rewording Systems and Investment Opportunities inside TOKHIT App with The Power of PROOF OF USERS CONCEPT.
HOW IT WORKS
The Roadmap
The Next 3/4 Months Projection for TOKHIT Development and Ecosystem Building
TOKHIT MVP Launch
The first, limited-access version of the TOKHIT App
The GateArt Launch
A collaborative content sharing platform
The AirHugs Gang NFT
The first NFT collection powered by TOKHIT
First in App TOKHIT Game
The first game to be integrated in the TOKHIT App
Delevoping Kolect
The NFT wallet that will be integrated in the TOKHIT App
TOKHIT MetaLaunch
The official, worldwide launch of the TOKHIT App
A MultiChain Entertainment Ecosystem
An NFT Wallet. A Secure Messaging App. An NFT Marketplace. A Blockchain-Based Shopping Platform. A Metaverse. A Gaming Platform.
DISCOVER OUR VISION