Updates News
TOKHIT Launch Update
Writen by Teodora Demian on 17.02.2022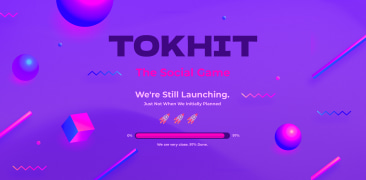 As you all know, we planned to launch our disruptive social network on 02.22.2022. This date was perfect for our launch, as it matched the unique character of our product. However, polishing the last details and getting our app approved on the App Store requires more time. Most of the features we planned for our Alpha version are ready, but some of the features we consider essential for a stellar experience took longer to develop than we initially estimated. Because of this, we didn't apply for App Store approval yet, which is why we have to delay our launch.


We thought long and hard about this, but we ultimately decided it's best to take the time we need to create a truly sensational product than to force this launch and release a product we're not 100% satisfied with. We are fully aware that this move will disappoint you, and we are sincerely sorry. We want to stay true to our promise of creating a revolutionary social network, which is why this difficult move is necessary. The other marketing initiatives we are working on are currently on track. We finished filming the upcoming Youtube campaign, we're preparing the official launch event, and we're working on attracting as many partners as possible.


We're estimating that we need one more month to get everything ready without rushing any of the required processes. We will offer more details as soon as we set a new launch date. In the meantime, we will come back with another update on Tuesday, 02.22.2022, when we will reveal something that will hopefully build trust in our product.


We apologize for this setback, and we hope you will continue to support our project!


Thank you for understanding,


The TOKHIT team!