Updates News
Our Next Steps
Writen by Teodora Demian on 22.02.2022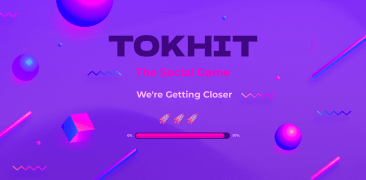 As the moment of our much-anticipated launch is getting closer with each passing day, we intensified our product development, marketing, and pitching efforts. Our team was busy developing several initiatives designed to promote our brand, refine the infrastructure of our decentralized social network, and get it ready for launch. Now, it's time for you to get a closer look at our plans:


TOKHIT's App Preview


You won't have to wait until our launch date to discover how our app will look. We prepared an exclusive
App Preview
through which you can see our app for the very first time.
TOKHIT's App Demo


Our development team is recording an insightful App Demo which will offer you an exclusive glimpse at our app and its main features. This App Demo will be released next Tuesday, on March 1st—our small token of appreciation for you.


The AirHugs NFT Drop


You probably heard of our exclusive collection of SuperRare AirHugs. We are happy to share that the NFTs are now fully developed. Our team is working on integrating the drop functionality into our app and preparing the landing page we'll use for that drop. You will soon find more details about these AirHugs on their newly-built
Twitter
,
Instagram
, and
Discord
profiles.
The First In-App Games


Our team is developing the first in-app games, which will make the TOKHIT app more interactive. We are working on t
hree play-to-earn games
that will allow users to gain attractive rewards which can unlock exclusive features in our app. The three games are called EarnHugs, JumpingHugs, and JetHugs.
The NFT-Focused Decentralized Wallet


We began the development of the first NFT-focused wallet on the market. This wallet, called COLECT, will offer innovative features targeted towards NFT investors and collectors. It will also be a crypto wallet. We'll have a demo presentation in the following period; stay tuned for more details.


TOKHIT's Financial Modeling


Our team finished TOKHIT's financial modeling plan. It includes a five-year projection of our monetization methods that guarantee our product's sustainability. We also have a professional Pitch Deck ready, which will be used to attract investors.


Angel Investors and Venture Capital Partnerships


We started pitching our product on an international level, to attract Angel Investors and Venture Capital partners. We are negotiating with investment funds from Dubai, Singapore, Hong Kong, the United Kingdom, Luxembourg, Austria, and the United States of America.
The METALAUNCH
We're preparing the main prelaunch event, a highly engaging digital METALAUNCH through which we'll reveal our product to the world for the very first time. This event will be followed by the worldwide launch of our product, which will include a series of exclusive events organized in 12 cities from all around the world.
IMAGINE the UNIMAGINABLE
The Youtube campaign we filmed last week will be called IMAGINE the UNIMAGINABLE. The campaign, developed together with one of the strongest Ad Agencies in Romania, is currently in post-production. We will synchronize its release with our METALAUNCH event.

Community Growth


We will soon have a cool giveaway for our community that will offer attractive rewards for the supporters who help us reach as many people who might be interested in our app as possible.