Industry Updates
Top 5 Most Expensive NFTs Ever Sold (So Far)
Writen by Andrei Vandy on 08.12.2021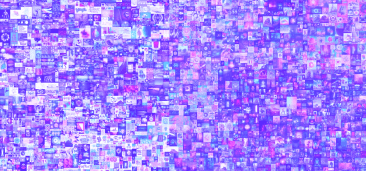 Non-fungible tokens have reached peak popularity this year, becoming one of the most talked-about currencies in the crypto space. While artists are rushing to the opportunity to showcase their work in the digital world, investors are eager to pay a premium for their art.


People have spent over $9 billion in NFT sales in 2021 alone, according to
Cointelegraph
—and the year's not over yet. But which are the biggest transactions of all time? Which NFTs were the most expensive? Here is the top five:
5. Beeple's Crossroads - $6.6 million


Digital artist Mike "Beeple" Winkelmann is probably the most well-known NTF artist at the moment. It's hardly surprising to find one of his works among the top five most expensive NFTs ever sold. This particular NFT features an oversized Donald Trump-looking figure laying naked in the grass, his body ridden with profanities. The $6.6 million sale of this digital art piece was brokered by Nifty Gateway, a popular marketplace for digital collectibles.


4. CryptoPunk #7804 - $7.6 million


Developed by American game studio Larva Labs, CryptoPunk is a household name on the NFT market. Created in 2017, this is the most expensive NFT collection on the market. CryptoPunk #7804, one of just nine "Alien" CryptoPunks, sold for $7.6 million. Behind this sale is Dylan Field, the CEO of design software company Figma.


3. CryptoPunk #3100 - $7.67 million


Another Alien punk, but one equipped only with a headband, got sold only one day after the sale of CryptoPunk #7804, for an even larger sum: $7.97 million. This CryptoPunk is the seventh rarest punk in existence.


2. CryptoPunk #7523 - $11.75 million


Auctioned for an impressive $11.8 million, CryptoPunk #7523 is the second most expensive NFT ever sold. On top of being one of the exclusive Alien punks, this one stands out through its protective face mask—a direct hint to the COVID-19 pandemic.


1. Everydays: The First 5000 Days - $69.3 million


Belonging to Beeple, this artwork broke all previous records. Not only was this the most expensive NFT ever sold, but the sale also marked the first time when the venerable auction house Christie's ever sold a digital work of art. The NFT is a collage of 5000 previous art pieces that demonstrate Beeple's artistic development throughout his career.


Non-fungible tokens are on an upward trajectory, and their popularity is expected to rise even more in the foreseeable future. The total sale value of NFTs is expected to reach $17.7 billion by the end of 2021, according to new research conducted by Cointelegraph.